This week I conclude this month's Battle of the Books, a feature where I read and review two books with a take on a similar topic. You can read my post introducing this month's battle (Wizard of Oz) and the books
here
. See below for my reviews and conclusions!
The Books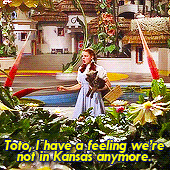 Dorothy Must Die
(DMD), by Danielle Paige, is a young adult story set after the events of the story we all know and love in the
Wizard of Oz
. We see Oz as it is slowly degrading from the rule of a despot in Dorothy, with magic mined and animals enslaved by Dorothy's minions. DMD follows Amy, a girl from Kansas, as she is swept into Oz on a tornado and eventually bound to a group called the Revolutionary Order of the Wicked with a mission to remove Dorothy from power.
I think if a reader looking for an easy read with a relatable 'outsider' teen protagonist, this story might fit the bill. Amy has had a tough life in small town Kansas and yearns for an adventure. She gets an adventure, but it isn't what she expects. Overall, I felt that the story proceeded at a decent pace and kept me entertained well.
And then I thought: Bring it on. There's no place like anywhere but here. - DMD
I definitely appreciated that Amy had qualms with the savior/chosen one/assassin role that individuals in Oz were attributing to her; it was a nice homage to the similar feelings that Dorothy faced in the original story. I liked that there was some question of whether the Order she was aligned with was really doing the right thing (and I plan to read the sequel next year to find out).
But I ultimately couldn't believe that the Dorothy we knew from Wizard of Oz would somehow turn out so... wrong. I think this was the ultimate weakness of this story for me -- there wasn't a clear or satisfying explanation of why Dorothy has turned into a total sociopath. In the original Wizard of Oz, Dorothy truly wants to go home, even if it is gray and dreary in comparison to Oz. Because that is where her family and home are... and there is no place like home.
Wicked
, by Gregory Maguire, takes the world of Oz and creates a complex backstory filled with political conflicts and one character's slow descent from into madness.
The main character Elphaba was named in homage for L Frank Baum (L F B / El pha ba). Wicked is ultimately her story, and I thought she was one of the most unique characters I have encountered in literature for a long time.
One never learns how the witch became wicked, or whether that was the right choice for her -- is it ever the right choice? Does the devil ever struggle to be good again, or if so is he not a devil? It is at the very least a question of definitions. - Wicked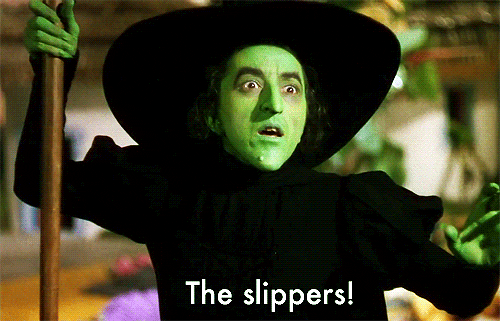 I found Elphaba's descent into madness believable (from student/research activist to fanatic to disillusioned greaving survivor) until the very end -- where it felt a little rushed to fit into the story we know from the viewpoint of Dorothy and her companions (
must have my sister's shoes!!!
). But in one sense, I appreciated that her madness/wickedness at the very end really was not entirely relatable nor justified because she had truly finally lost it.
I also felt that the overall pace of Wicked wasn't as uniform as DMD -- I felt some parts (her time with Fiyero's family, for one) slower and tougher to get through than others. It was a tougher book in some ways because of the complexity of the issues it addressed and cast of characters created for the story.
My Verdict
Ultimately, who do I think did the retelling of Oz better?
Wicked
.
Neither story was perfect to me, but I believe the story had a more interesting main character in Elphaba and a more nuanced take on the lands and magic of Oz.
As a fantasy fan, I always enjoy the magic systems created for a world. The magic/science system of Wicked felt ultimately more realistic to me than that in Dorothy Must Die. In Wicked, the magic was an artform to be studied and practiced for an entire lifetime (Elphaba laments not taking a class on it towards the end), but in DMD, it was something our main character was able to tap into within a few weeks based on channeling emotions.
But as a reader, to me a story ultimately succeeds on it's characters. We follow Elphaba from childhood into adulthood, witnessing her devote herself to a worthy cause (the Animals) to the point of fanaticism. Amy is a generally likable teenager, but I wanted more than one girl's story of (mis)adventure and teenage love interest. With Wicked, through the main character's story we get a nuanced tale/tragedy of why someone may turn into the very carciture of evil seen in Wizard of Oz. In DMD, we got the story of a group of witches formerly wicked and good alike, working to overthrow an evil that didn't feel fully explained to the reader.
Ratings
: 4/5
Wicked
, 3/5
Dorothy Must Die
.
What about you? If you read both of the books, do you have a favorite? Any suggestions for other works (books, TV, etc?) inspired by the world created in
The Wizard of Oz
? Leave them in the comments below! And stay tuned next month for another Battle of the Books!